Our Services
Daycare and Boarding:
Dogs get to be dogs, a tired dog is a happy dog, plenty of dogs for your dog to hang with wrestle with or just have a nap with. Acres of property for your dog to explore.
Separate yards, not all dogs are created equal, we like to separate dogs according to age, energy level and size, controlled dogs are safe dogs.
*Please note that Boarding hours are Different then Daycare hours*
Boarding Hours & Pricing:
✔ Drop off and pick up times are either between 9-11AM or 3-5PM (please ask about our later pick up times)
✔ Established clients can arrange an earlier drop off and later pick up (within reason), this must be arranged at the time of the booking.
✔ $40/night. Add $37/night for each additional dog.
✔ 7 plus nights is $38/night, $36/night for each additional dog.
✔ Add $15 for the day if you pick up within the afternoon hours and $20 if more than one dog.
✔ Discount for 30 plus nights $36/night, $34/night for each additional dog.
✔ Additional dogs must be from the same household.
Daycare Hours & Pricing:
✔ Drop off times are between 7-10AM, Pick up time is between 3:30-6PM
✔ We can make arrangements ahead of time for a more flexible drop off and or pick up time. Please ask about options at the time of your booking.
✔ $30/day for 1-2 days a week, $28/each additional dog.
✔ $28/day for 3 plus days a week, $26/each additional dog.
✔ Additional dogs must be from the same household.
Training
Great Start Puppy Training Information Session: (8 to 16 weeks, for owners only) Great for new puppy owners who want to start off on the right foot. Loads of very important and priceless information, bring all your questions. One hour minimum $125/ hour.
Next Stage Puppy Training: Includes manners such as off, leave it and wait. We also work on recall, Crate training and they get socialized with other dogs. This is great for pups that are 3 – 5 months old. Second set of vaccines is required for this including Bordetella (kennel cough) $75/day minimum 5 day stay at the kennel.
K9 Bootcamp
The two week formal training Bootcamp: An excellent and fast way to get your dog trained, your dog stays at the acreage kennel for two weeks where they will learn sit, down, stay, recall and heel, commands include hand signals as well as voice command.
We include distractions such as other dogs, toys and food. At the end of the second week you the owner comes in for two one hour lessons to teach you how the training works and how to advance with it... Our method: Praise, play and pack leadership! $1200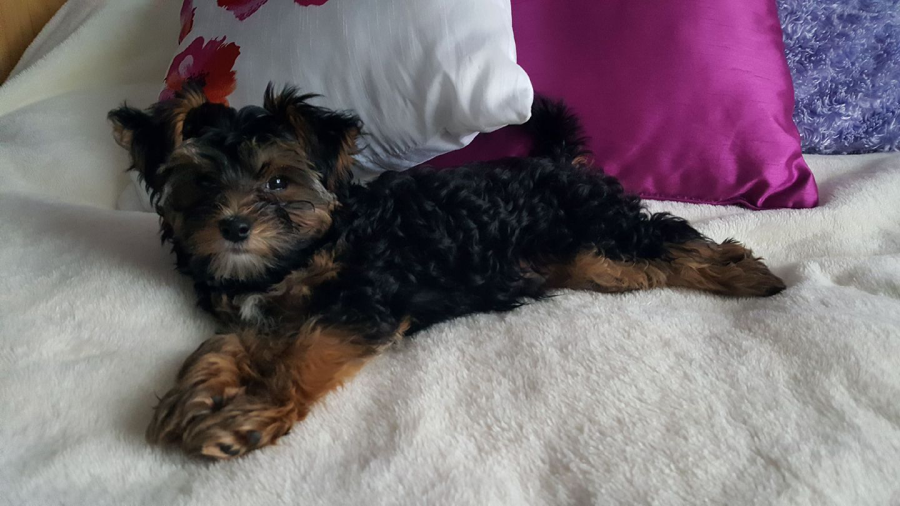 What's required:
Vaccinations... which needs to include the Annual, Rabies, Bordetella (kennel cough) and flea control is preferred.
What to bring... your dogs food (Please put in a sealed container so that it stays fresh)
Medications... dogs that are on medication, we ask that you bring pill pockets or cheese slices and a note with instructions
We do have a freezer for dogs that are on a raw food diet, but ask that it's packaged so that it's ready for each meal.
NOTE: Due to our free run pasture yard set-up, we do not take aggressive dogs.
All male dogs must be neutered by six months. Females must not be in their heat cycle or close to coming into their heat cycle.
Payment accepted Visa, MasterCard and Debit


Now Breeding...
We occasionally have beautiful, healthy puppies. Breeds include Morkies, Morkiepoos, Dorkies, Schnoodles, Aussie Mountain doodles and Goldendoodles